At Muscoot Farm you can experience farm animals, agriculture, wildlife, and history in a family-friendly atmosphere. Once a working dairy farm, Muscoot Farm is now a Westchester County park open to the public 362 days of the year.
Our buildings and grounds are open from 10am-4pm daily.  For additional information on Muscoot and other Westchester County facilities please visit westchestergov.com.
 
---
Once a year sheep need to get a haircut. All year they have been growing their wool which kept them nice and warm in the Winter. Now that Summer is on its way it is time to cut, or shear, the wool off the sheep so that that they are comfortable. Not shearing our sheep could cause many problems for them such as overheating, wool blindness, parasites, and skin diseases.
Once, there was a sheep in New Zealand that hid in a cave for 6 years. In 2004 he was finally caught and sheared. His fleece weighed 60 lbs. when the average weight of a merino sheep fleece would have only been 9 lbs. Can you imagine carrying all that weight around?! They were able to make 20 wool suits out of his fleece.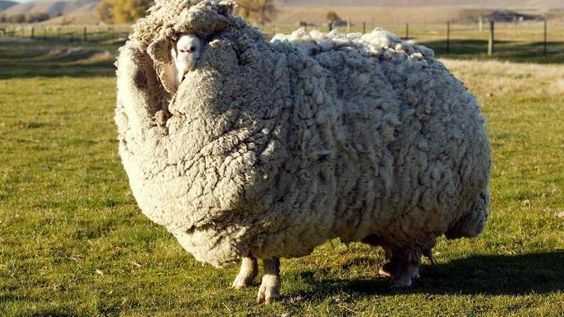 WOOL TO YARN
A great deal of work goes into making yarn from wool and it involves several steps to get from a fleece, also known as "grease wool", to yarn.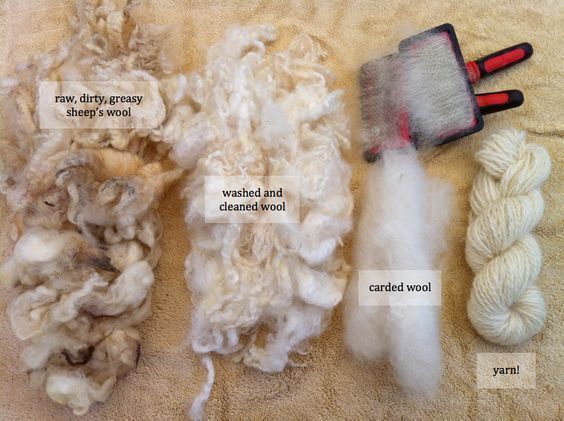 Step 1: Skirting
The wool from the back end of the sheep, their legs, and sometimes their belly is too full of manure, dirt, and plant matter to use. These dirty parts of the wool are called "tags" and are removed first before washing the fleece. 
Step 2: Washing the Wool
The fleece is then washed in soap and water, but very delicately. Agitating the wool can cause the fibers to bind together, or "felt". The wool is mainly dunked into a series of tubs alternating with water and with soap and water. Sometimes processing mills will "scour" the wool by putting it in an acid bath which dissolves all of the plant matter still stuck in the wool. The wool is then placed flat on racks to dry.
Step 3: Picking
The washed and dried wool needs to be "picked" which which can be done by hand or with a machine. Picking is how wool processors open up the locks of wool.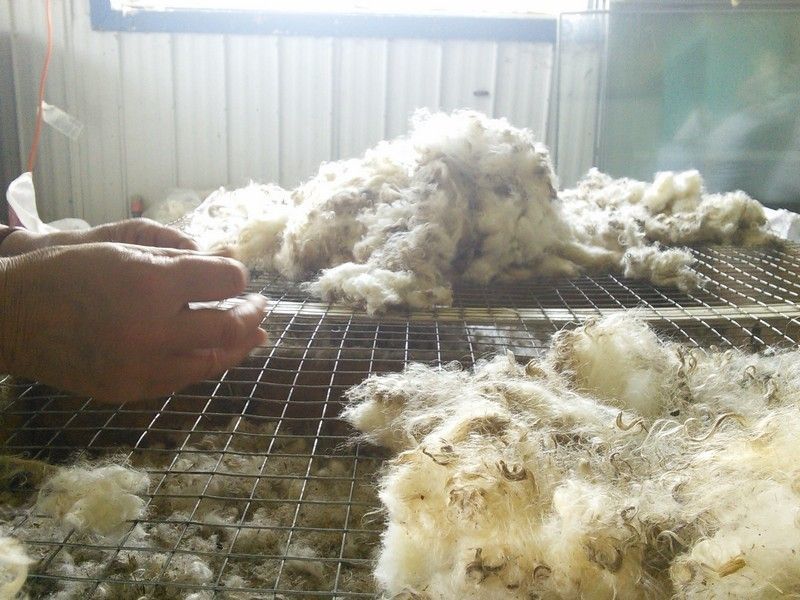 Step 4: Carding
During this step the wool fibers are combed, or carded so that the fibers (each hair) all line up neatly. This can be done with small hand held tools that look like dog brushes called cards. It can also be done on a larger scale with machine driven drums covered with "card cloth" (thin spikes) which combs the wool by transferring it back and forth from one drum to another as it is passed down a series of drums. This eventually lines all the wool fibers up for spinning. 
Step 5: Roving
Once the wool has been carded it is divided into small strips called roving. These are collected on large spools on the end of the carding machine. These spools of roving will  be placed on the spinning frame to make yarn. Roving is very delicate so for hand spinners it needs to be wound into a ball so the roving doesn't tear into pieces.
Step 6: Spinning
Roving does not have a "twist" to it as everything is lined up neatly. It is held together by the oil in the wool and the tiny hooks that exist on the surface of wool fibers. Spinning is the process of putting a twist into the roving which make a stronger strand of wool that will stay together. It can be thin or bulky depending on the hand spinners preference (or the machine). The yarn is measured out in skeins which can then be wound into "cakes"  and balls of yarn.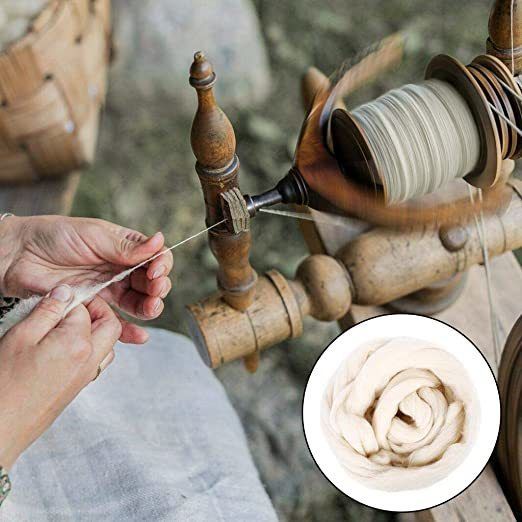 ---